CSCS Card App Now Available
Save time by downloading your CSCS Card to your phone using the MyCSCS app. A virtual CSCS card is the same as the plastic card but stored within the My CSCS app on a smart device, such as a mobile phone, rather than in a wallet or pocket.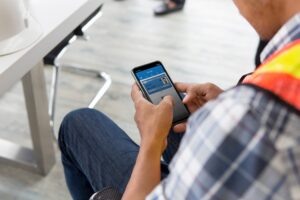 Virtual cards benefit the card holder and their employer by providing both with instant access to the individual's training and qualification records and eliminating the need to carry a physical card on site.
The virtual card is generated automatically and can be downloaded to the My CSCS app as soon as an application is approved, and payment is taken. The virtual card can then be used immediately on site before the traditional plastic card has arrived in the post.
The My CSCS app is available 24 hours a day, 7 days a week, providing card holders with access to the information they need when they need it. Visit www.cscs.uk.com/mycscs to find out more about virtual cards and the my CSCS app.